Australia's wine industry remains strong despite export saga
Although experiencing a 9% drop in sales, Australia's wine and grape industry still achieved a massive A$5.89 billion in sales for the year 2020-2021. With an already-established expansive footprint within the country, the viticulture industry is a large-scale powerhouse, with over 6 000 grape growers, vineyard acreage exceeding 146 128 hectares and over 2 400 wine producers.
Despite pressure from China and the outrageous tariffs imposed by them upon Australian wine, as well as the knock from the pandemic, the wine industry continues to prove its dominance despite multiple deterrents. Wine Australia General Manager Corporate Affairs and Regulation, Rachel Triggs explains that although the pandemic is still causing on-trade disruptions, along with the accompanied global freight crises resulting in additional shipping delays and increased freight costs, there was export growth to many destinations. It will take time to offset the loss in trade to mainland China – this is not something that will happen overnight, nor within a year. But the Australian wine sector is resilient, and there are early signs that hard work in expanding and diversifying markets is paying off."
Despite the export saga, other countries are readily embracing the full-bodied enjoyment the Australian sector has to offer. Wine Australia points out the expanding markets with the largest increase in value of wine exports:
Singapore (up 108% to A$166 million)
Hong Kong (up 45% to A$191 million)
South Korea (up 74% to A$47 million)
Taiwan (up 65% to A$31 million)
Thailand (up 31% to A$28 million)
With export markets expanding and increasing revenue for the wine industry, it could very soon find itself needing to heighten operations and efficiencies to keep up with demand – once the pandemic simmers down and the global freight and shipping crises resolves. Incorporating IoT solutions into viticulture could help with the increase in demand and create operational efficiencies, allowing vineyard owners to focus on other areas of their property.
IoT solutions lending a helping hand to viticulture
Many IoT solutions deployed within vineyards are primarily focused on providing data and insight into land and crop health, there are other solutions that can help boost the efficiencies of the industry. Below we detail a few that can be used throughout vineyards to gain insight and help with better vineyard management.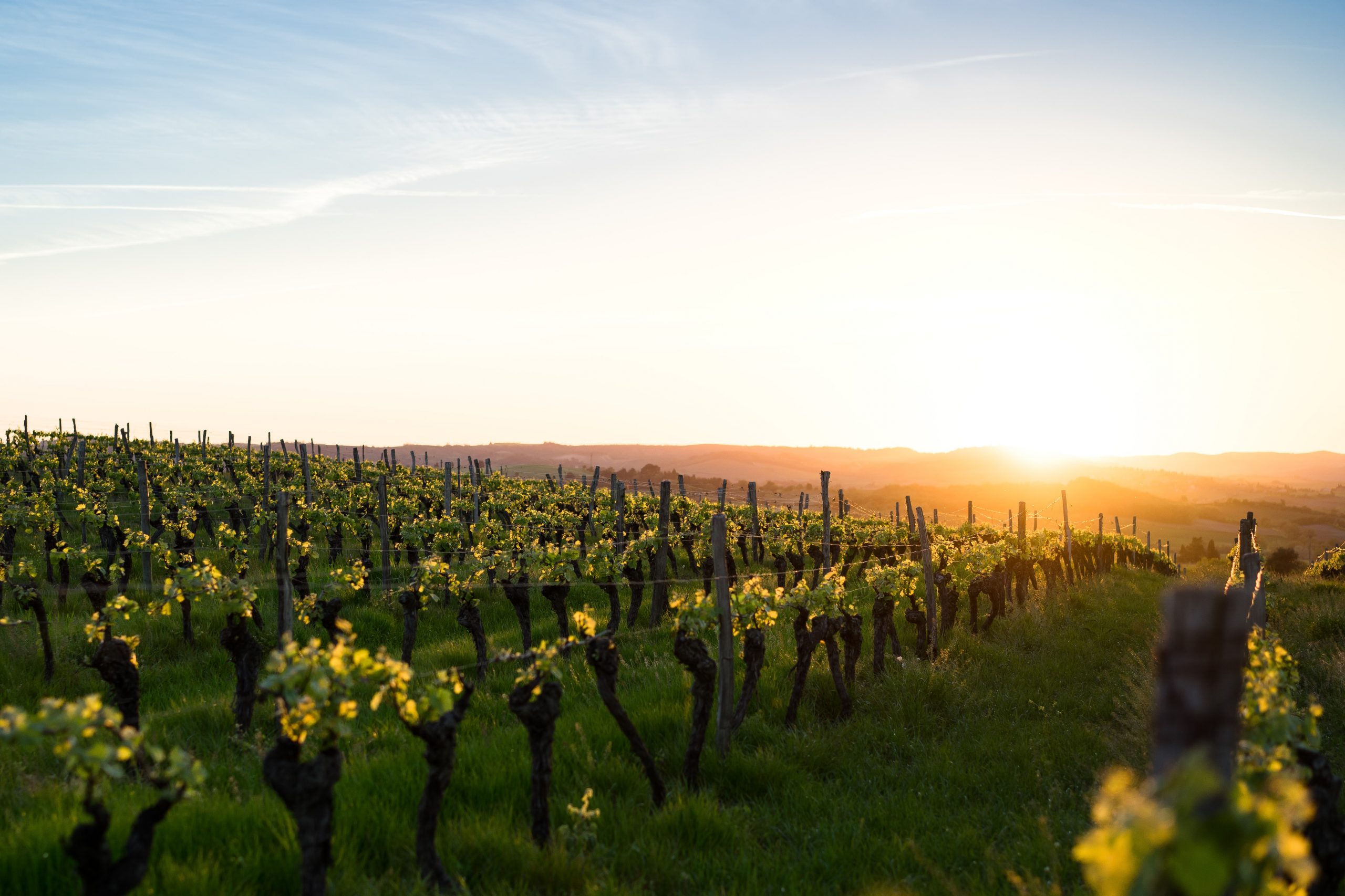 Video Surveillance Monitoring
While Farmdeck's video surveillance monitoring is great for livestock counting and security measures, it has additional functionalities that it lends itself to.
Our customised surveillance feature has the capacity to ward off unwanted birdlife in your vineyards. Far better than a simple scarecrow and more efficient than a timed sound going off, our feature can trigger a loud noise when motion is detected. Traditional methods have seen birds becoming accustomed to timed sounds, with motion detected noise, this won't be the case and your crops will be left to thrive unaffected by these pests.
Spraying and weed management
Today, precision viticulture allows farmers to digitalise their operations. Farmdeck's IoT solutions, like the Spraying Conditions feature, allows you to plan your spraying events based on the weather forecast and provides automatic recommendations to help you effectively improve safety on farm. This means that you can effectively lower the amount of spraying, which saves on pesticides costs while increasing farm safety and minimising spray drift.
The Chemical Records feature allows you to keep records of all chemicals used on farm, as well as recording spraying equipment setup, such as nozzle model and size, boom height and pressure system, helping to accelerate the recording of spraying events easily.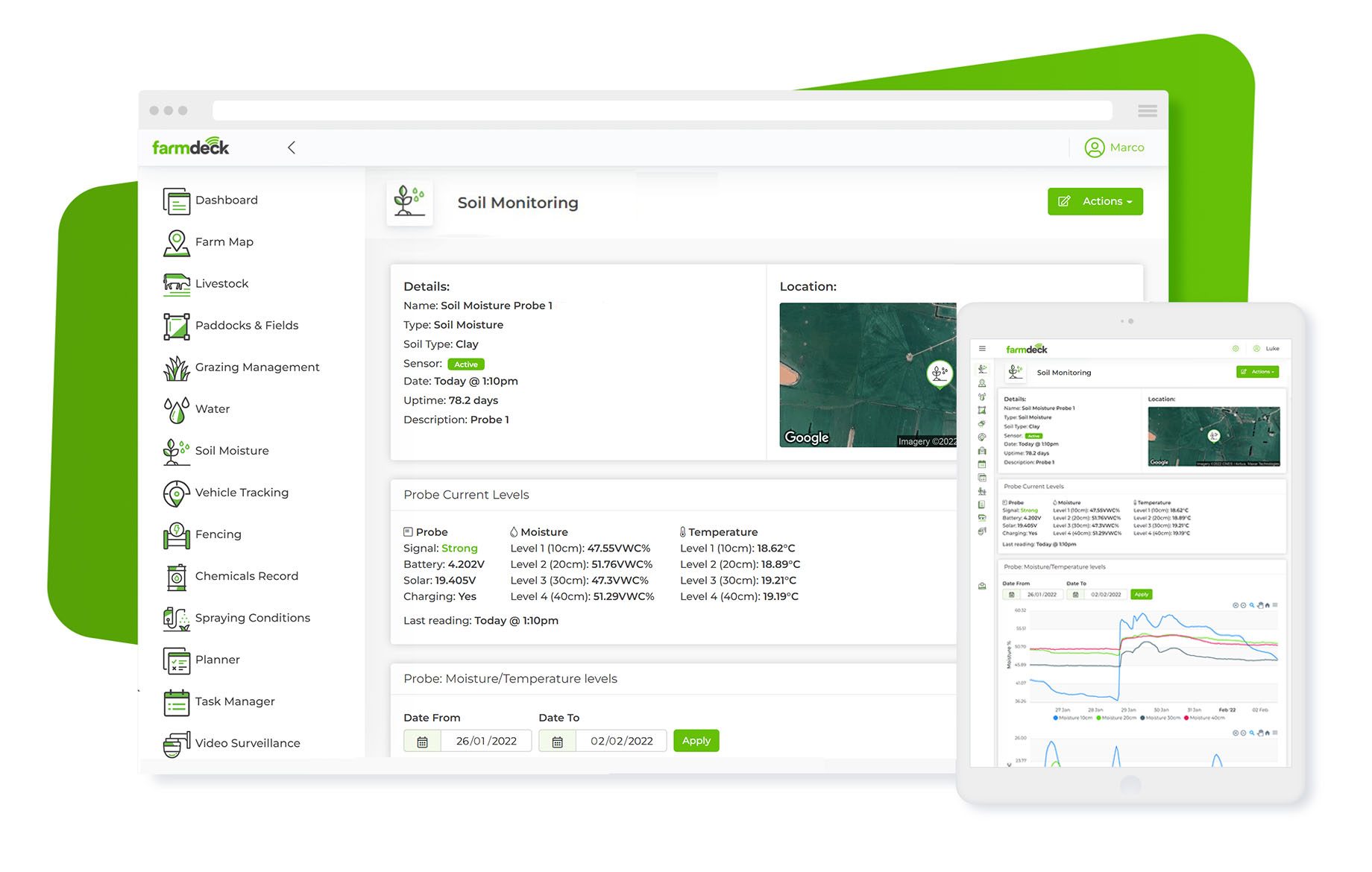 Water Management and Soil Monitoring
In order to effectively manage water and monitor soil, environmental data is collected from the placement of sensors in the vineyard. This is then used to improve the quality of grapes, while reducing the risk and waste through better planning and focused forecasting.
Vineyard water use efficiency can be heightened through monitoring the amount of water your property receives through rainfall, aside from irrigation use. Our IoT rain gauges give you better visibility of the precipitation on your property in real-time and historically. With the precise monitoring of weather conditions, you can better predict crop needs, preventing over or underwatering and saving costs, reducing water use without compromising grape yield and improving total crop profitability.
Combine this with Farmdeck's Soil Monitoring solution that allows you to see your fields exact water level requirements. Monitor and receive reports on soil temperature, salinity, and moisture at various depths. Also receive up-to-date reports, and view your land's historical records, helping you make future decisions. By understanding your soil's requirements, you can make sure that you are giving your land exactly what it needs to product high-quality crops.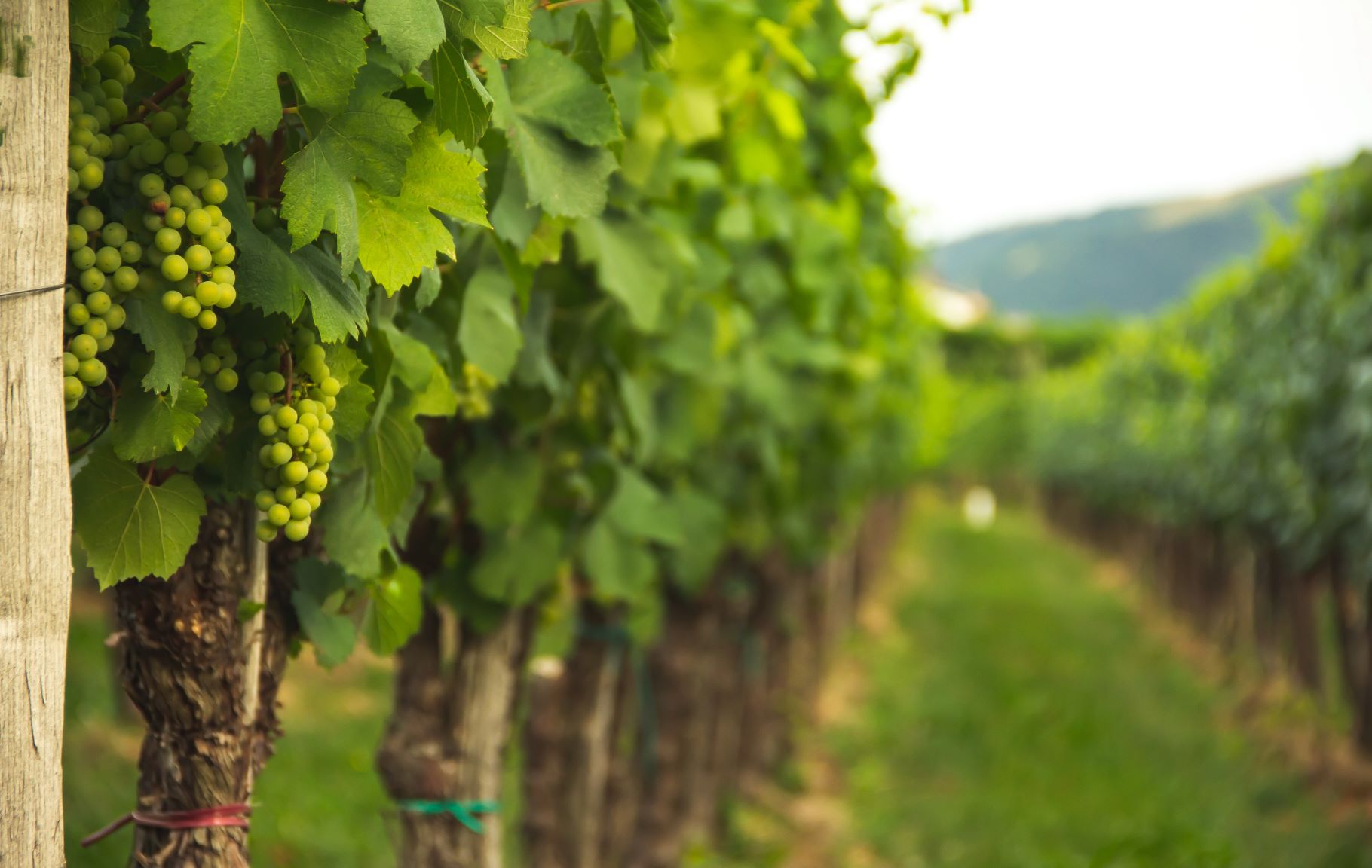 No farm or vineyard too remote
If you are concerned that your farm is too far to receive reliable network connection, we can help. Our team, composed of farmers and engineers, are experts in deploying solutions in remote areas with low connectivity and limited power options.
Not sure where to start? Contact us and let us help you with a customised solution to meet your property's unique requirements.