New technologies transforming farming practices into efficient, streamlined activities
New technologies have given farmers the insight they need to understand their land better, supplying them with vital information that they can use to help their land experience optimal crop growth rates. This technology adoption has led to the creation of smart farming – farms that focus on improving land management practices and biodiversity, including streamlining farming operations and activities.  This means that farmers now have better insight into not only their land but also their livestock (i.e., health and location) and other everyday farm operations.
"The Internet of Things (IoT) is set to push the future of farming to the next level. Smart agriculture is already becoming more commonplace among farmers, and high-tech farms are quickly becoming the standard thanks to agricultural drones and sensors," says Business Insider, a global financial and business news site. "Insider Intelligence [a market research company] projects there will be nearly 12 million agricultural sensors installed globally by 2023. Additionally, tech giant IBM estimates that the average farm can generate half a million data points per day – helping farmers to improve yields and increase profits."
Smart farming is set to take your farming operations to the next level. However, implementing tech into your daily farming activities doesn't have to be complicated. Small changes can reap immense benefits for a farm, no matter its size or main activity.
How can you implement tech into your everyday farming activities?
Below we discuss some agtech solutions that you can implement to help make your farm management simpler, easier, and more efficient.
Gain better insight through smart technologies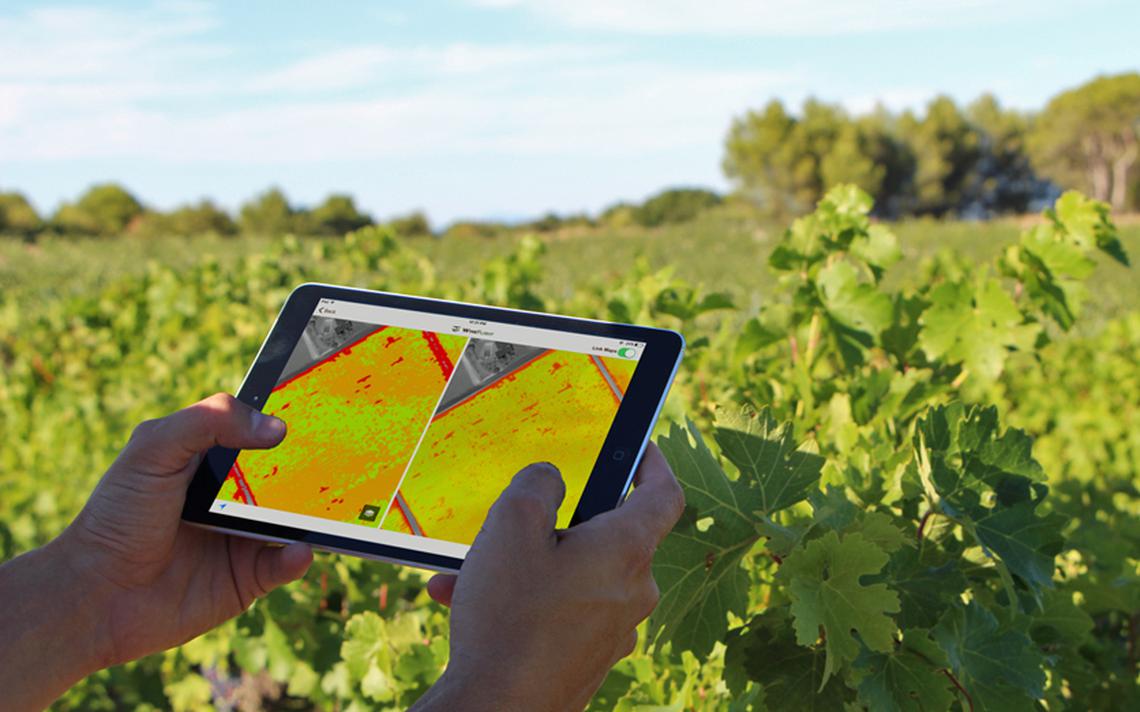 Understanding your farmland
With its high-precision technology and satellite-driven data, field productivity maps clearly identify areas of the highest and the lowest productivity on a farm. These images are able to provide farmers with insight into soil temperature, humidity, and plant deterioration analysis.
Additionally, Normalised Difference Vegetation Index (NDVI), which analyses live green vegetation in a specific area, can provide farmers with an accurate reading of the health of their crops.
Weather predictions
Weather conditions undoubtedly have a big impact on the condition of crops. Unfortunately, these conditions are becoming increasingly impossible to accurately predict. Aside from the obvious benefit of providing water for growth, it also impacts the development of plants and, of course, crop yields. IoT solutions are becoming the way in which farmers can get a better gauge into and an understanding of accurate weather predictions.
Weather stations, like the ones deployed by Farmdeck, provide farmers with a more accurate reading of the weather on their property compared to the Bureau of Meteorology's more general forecast. Our weather station also has an automated recording capability on its platform, providing farmers with a complete weather history. This gives them access to information collected during different seasons and years, providing them with insight into what their crops or pasture will look like and if any action is needed to help crops experience optimal growth.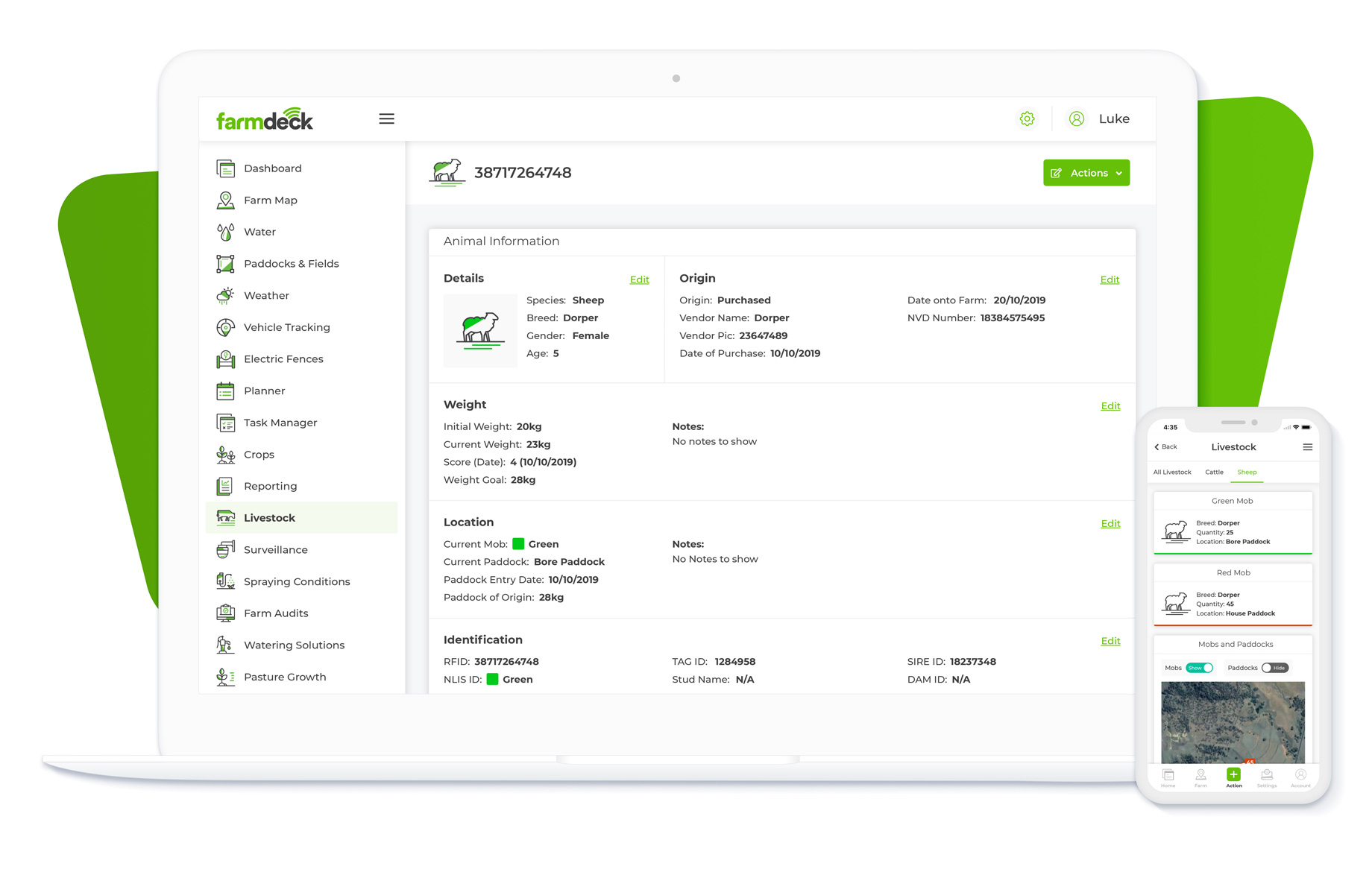 Livestock
Did you know that IoT is making the tracking of livestock, as well as understanding the health and wellbeing of your livestock easier? Through IoT solutions, you can:
Fit an IoT collar on your cattle to track your mob in real-time
Use RFID sheep ear tags to automatically identify and count each animal when they walk through a gate
Track all the data collected by the RFID tags or IoT collars on the Farmdeck app and manage your livestock from there
Monitor livestock and receive alert notifications if your livestock has been down or non-mobile for a certain period of time
Farmdeck offers all of the above and also keeps historical data and record keeping in one place that allow you to record:
Livestock heads, gender, breed and age
Vaccine and drenching records
Grazing management, including the number of days spent in the current paddock, DSE load, and time to next move
Financials, including purchases and sales details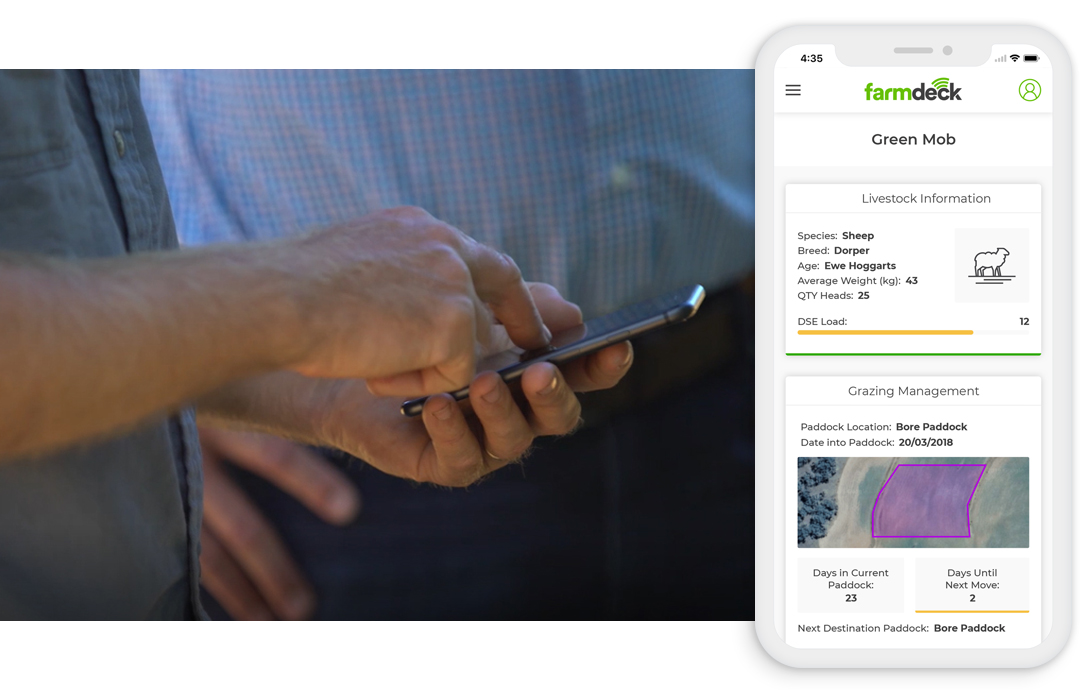 Through these IoT features for livestock, you are able to understand your mobs' exact location – which means if they are not in the designated paddock, or are being taken out of your land, you'll know in real-time and be able to take decisive action to locate your livestock and ensure their safety.
The record keeping feature means that you'll be covered if you undergo an on-farm audit as all records are kept safe in one secure place.