Protecting Australia's $51 billion agriculture, forestry, and fisheries industries
Australia's biosecurity system is one of the most stringent in the world. Protecting the agriculture, forestry, and fisheries export industries worth $51 billion, the national biosecurity system focuses on promoting and maintaining a healthy environment for fresh water, fresh food, and a prosperous society for all Australians.
Although the biosecurity system is strong, its strength lies in the ability of the agricultural industry working together to combat all risk, with farms being called to be aware of potential of risks, whether from insects, rodents, animals, or other contaminated plants, and to put proactive measures in place to combat these risks.
While the infectious diseases of cattle, sheep and goats do not occur within Australia, it is important to remain vigilant in order to keep these diseases out. One of the ways in which this can be done is by putting efficient farm biosecurity plans in place. The Department of Agriculture, Water and the Environment (DAWE) provides a detailed breakdown of the pests and diseases affecting livestock and response plans to combat this.
Worth an estimated A$27.9 billion, broadacre and horticulture crops contribute over A$20 billion of the gross value of agricultural production, and forestry estimated at A$2 billion, it is essential that the risk of contamination from pests or disease is greatly reduced.
The biggest threats to broadacre and horticulture crops, in terms of biggest cost and impact, are the Xylella fastidiosa, Khapra beetle and exotic fruit flies. Xylella is classified as a high priority pest within the wine industry. Vinehealth Australia CEO, Inca Pearce says that Xylella is "a major threat due to multiple hosts and vectors, rapid impact and global spread, and we need to keep it out". This pest is an invasive bacterial plant pathogen that blocks the movement of water, causing dehydration and death of plants – and there is no current treatment for Xylella. "This disease causes significant environmental and economic impacts across more than 350 commercial and ornamental plant species, including grapevines."
Unfortunately, fruit fly outbreaks are all too common within Australia. A large proportion of Australia's $9 billion horticulture production is susceptible to fruit flies. "As a result, commercial producers around Australia collectively spend hundred of millions of dollars on various control measures and also suffer production losses. In severe cases, fruit fly maggots can be found in a large proportion of a harvested crop, even every harvested fruit. In this case the crop is considered worthless," explains The National Fruit Fly Council. Classified as one of the world's most destructive horticultural pests, fruit flies pose risks to most commercial fruit and vegetable crops, attacking some 300 species of fruit and above ground vegetables, according to the DAWE.
Give your farm a fighting chance
It's vital that you monitor your crops regularly, putting in place appropriate control and management strategies, and conducting pest risk assessments regularly. But what can you do to combat pests on your property?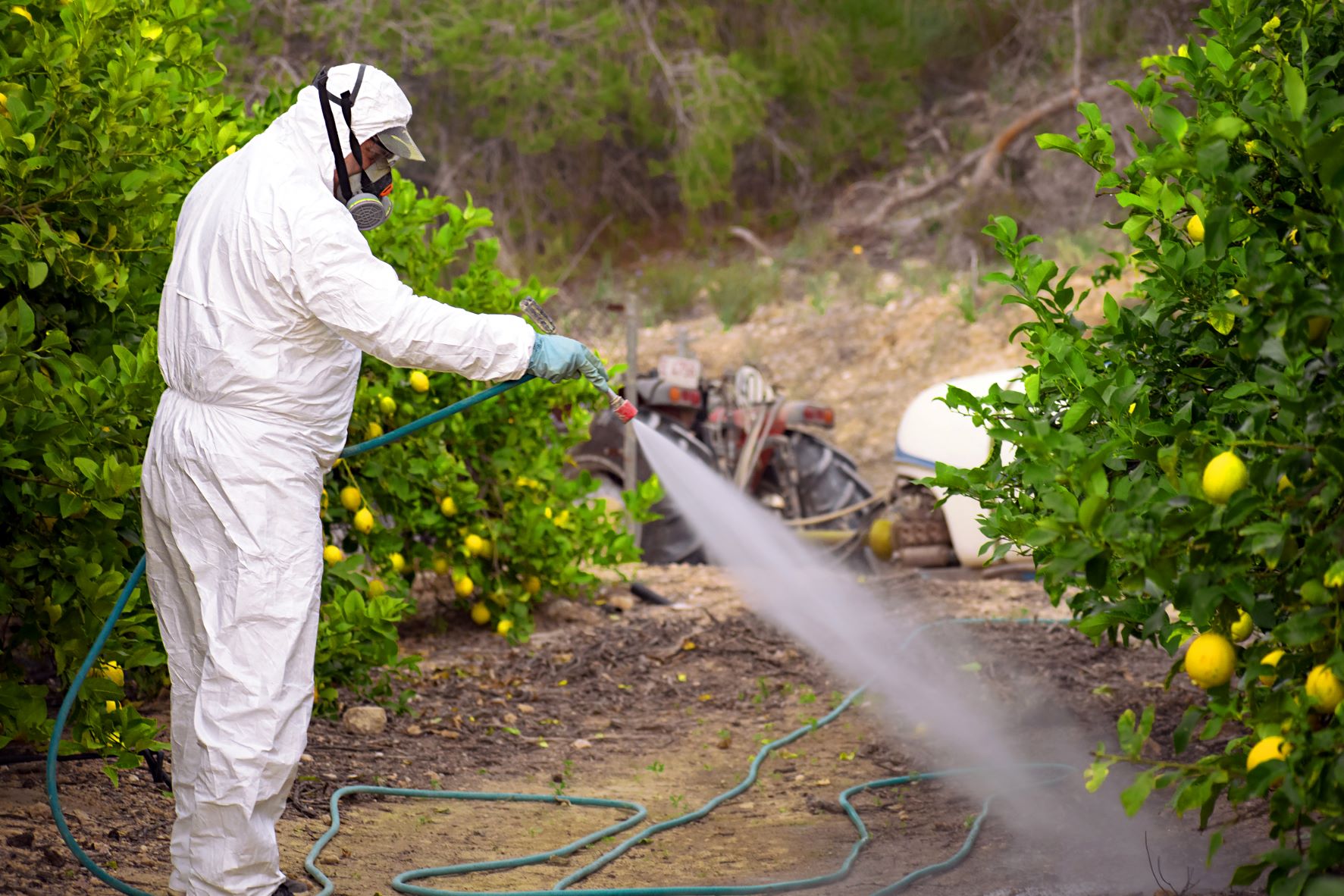 Spraying
One of the best ways to deal with unwanted pests, and give your crops additional nutrients, is through chemical spraying. Although different chemicals are used based on farm size and operations (crops vs livestock, or both), the most common chemicals are herbicides, pesticides, and fungicides, including veterinary chemicals – and each should be handled with caution. Read more here on how to handle chemicals safely.
Applying the right chemical and the right amount of that chemicals at the right time is essential in being able to combat unwanted pests, reduce any spray drift and ensure the health of your crops. Farmdeck's Spraying Conditions feature can help you spray safely by giving you an overall spraying status based on four weather factors, such as wind speed, the likelihood of rain, Delta-T indicating evaporation rate and droplet survival, and thermal inversion. This feature provides automatic recommendations based on the four weather factors, helping you spray safely and better protect your farmhands, livestock and land. 
If you do become concerned that your crops have been affected by unwanted pests, you can report this to DAWE.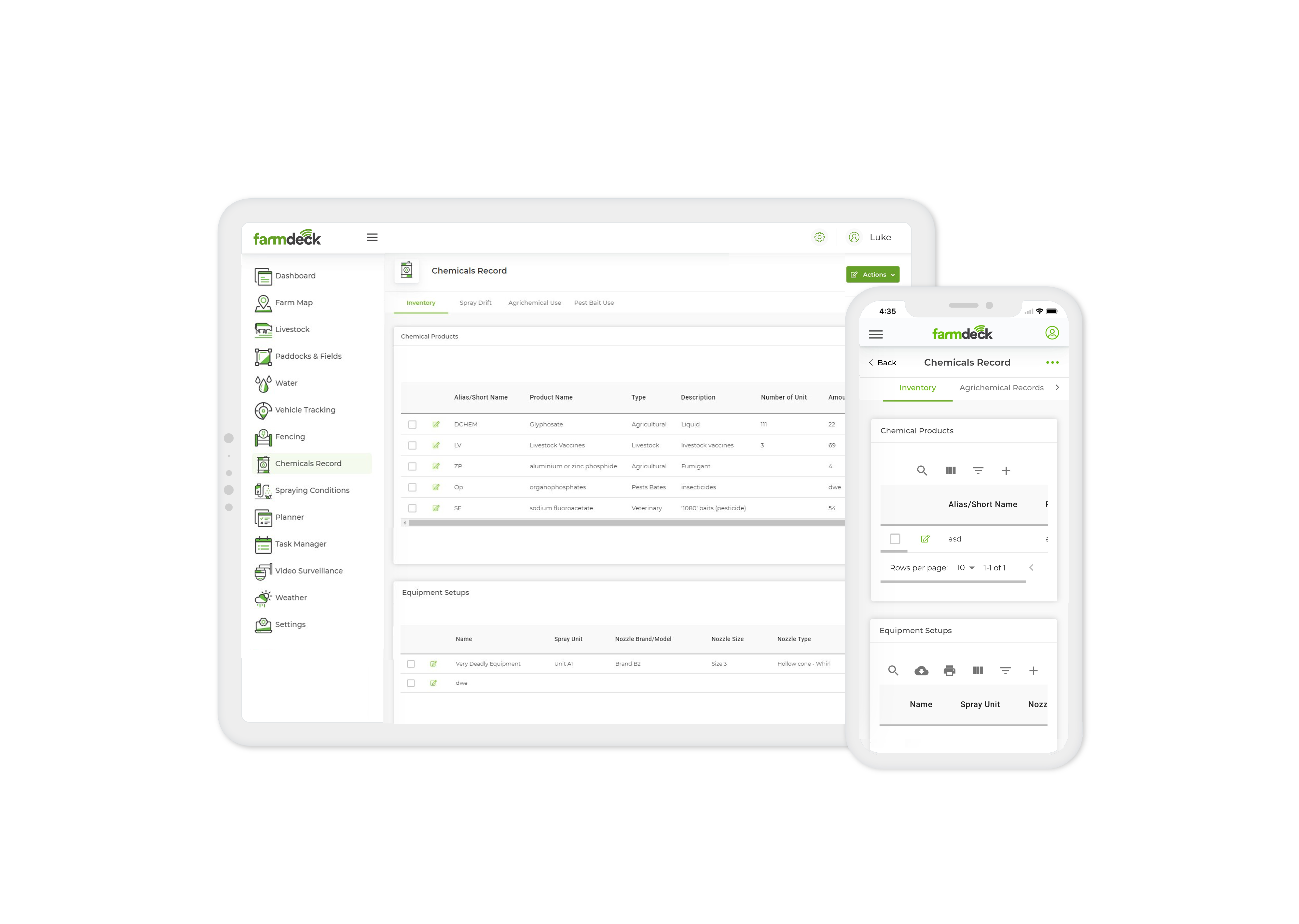 Keep chemical records
Improve your farm operations, reduce chemical wastage, increase the effectiveness of your chemical use methods and maintain compliance by recording and storing all you information in one convenient place with Farmdeck's Chemical Record feature.
Through the Agrichemical Records tab, you can record the details of spraying events, such as the date of application (whether previous, current on upcoming), the location, product, wind direction and more! You can even use the equipment setup you've already filled out in the Inventory tab when making a new entry in the Agrichemicals Records tab, making for a quick and easy entry.
The Pest Bait Records tab allows you to record the chemicals and poisons used to specifically eradicate pests, the quantity of chemical used, dates of installation, and removal,  including the location of baiting. Keep your record in one easily accessible location.
The Australian Pesticides and Veterinary Medicines Authority provides a database where farmers can find appropriate chemicals for their particular pest problem.
Helping you create an efficient farm operation
At Farmdeck, we're constantly adding new features to help farmers streamline their operations, reduce time spent on manual activities (like water runs), and gain invaluable insight into their land, crops and livestock through our unique sensors. All data retrieved from these sensors are displayed on our easy-to-use platform where farmers have access to easily digestible information, helping them make better informed decisions daily.