Data centric approaches are allowing farmers to improve and enhance their farm's output
Machine learning (ML) and artificial intelligence (AI) are gaining ground in the agricultural space, particularly in the advancement of IoT solutions and agtech. And it's not difficult to see why. IoT solutions allow farmers to gain a deeper understanding and provide invaluable insight into farming operations, land requirements and other external factors, likes weather conditions, seasonal sunlight patterns, plant and irrigation cycles, resting rate of paddocks, health and movement of livestock – all of which affect yield and a farm's productivity. The understanding of these factors is further enhanced by the use of ML and AI integration.
With ML-based IoT solutions, which can be programmed to identify certain data that are derived from IoT sensors placed throughout a farm, tasks can be automated to improve farm functionality. This can be seen, for example, when an irrigation system is set to start at a certain time and weather patterns predict showers. ML IoT solutions can utilise this information and then automatically turn the irrigation system off – saving the farmer water usage and protecting crops from oversaturation.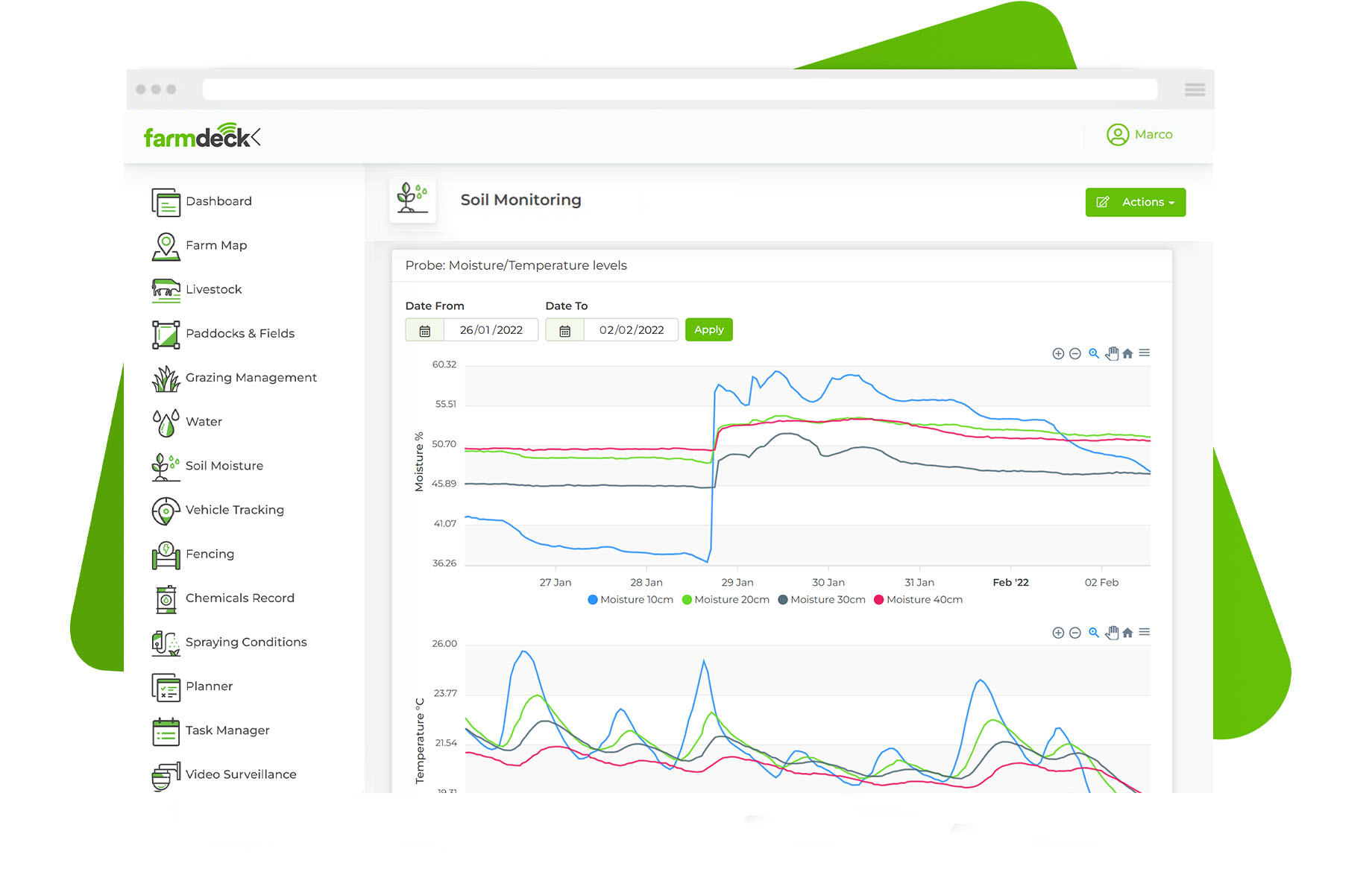 A more data centric approach
Data centric approaches are allowing farmers to improve their farm's output, yield, and crop quality at a more advanced level than ever before.
Farmdeck takes AI and ML to another level, while offering the entire end-to end-farm management solution that includes hardware sensors, local manufacturing, network design and deployment, private cloud-based data ingestion and storage, and custom-built applications and dashboards to suit the sensors and required user-interface requirements. This means that you'll be able to see the data derived from the sensors deployed throughout your farm all in one easy to use dashboard. AI and ML patented modules are in use throughout the feature sets within Farmdeck, and by using historical data, can be predictions to better help your farm management. For example, on a 30-degree day, you have livestock in a particular paddock, our solution can predict how much the water level drops because of the temperature and how much livestock drinks. This data is then stored and used to make accurate predictions based on similar circumstances – helping to improve farming operations' efficiencies and effectiveness.
According to PwC, IoT-enabled agricultural monitoring is smart, learns as it processes and is agriculture's fastest-growing technology projected to reach USD$4.5 billion by 2025.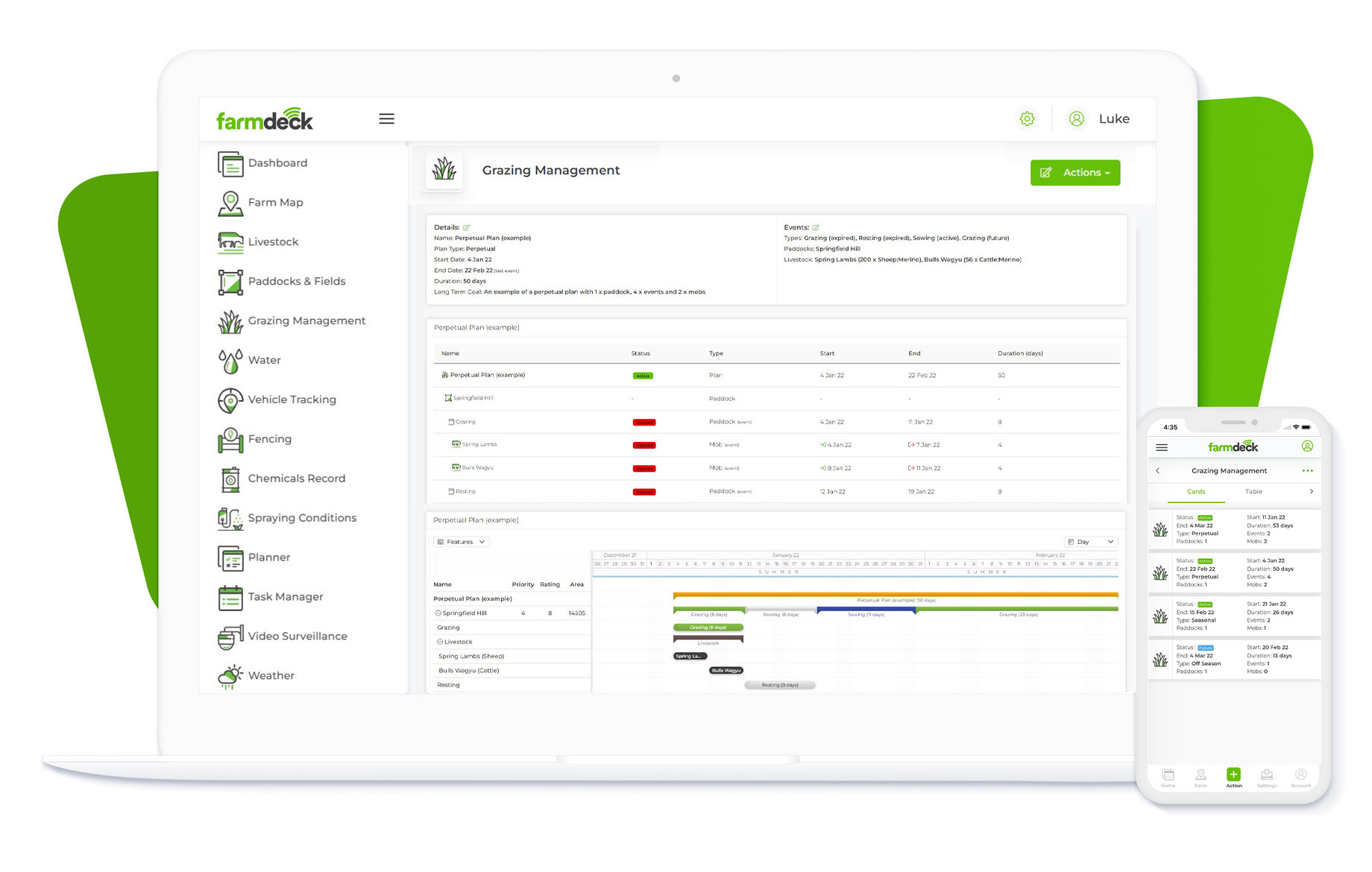 The power of transformation
According to Markets and Markets, spend on "AI technologies and solutions alone in Agriculture predicted to grow from $1 billion in 2020 to $4 billion by 2026, attaining a Compound Annual Growth Rate (CAGR) of 25.5%", it would appear that the agriculture industry is undergoing a dramatic transformation becoming savvier in the way things are implemented and run on-farm.
Reach out to Farmdeck and let us help you create a customisable solution to fit your farm's size and operations, and help you take a step to become smarter and more efficient.