Advances in farm equipment, sensors and emerging agtech are helping farms increase yields and streamline operations
With world food demand expected to increase by 60% by 2050, there is mounting pressure on the agricultural industry to drive growth to meet this demand, while ensuring thriving and high quality crops and livestock, and taking into account the rising cost of labour on farm.
The easiest solution and most beneficial way for farmers to combat this global demand while ensuring smooth running of daily farm operations is through the implementation of agricultural technology (agtech). Predicted to be Australia's next A$100 billion industry, agtech is significantly transforming traditional farms into smart farms, improving the way farmers manage their land, livestock and operations, giving insight into water levels, livestock movements and health, spraying conditions, inventory and equipment records, crop health and growth rates, including traceability applications, among other things. All of this data can be accessible from any device the farmer uses, whether android or apple.
Due to data being so accessible, farmers can now make decisions about all aspects of the farm by looking forward instead of retrospectively. Farmers can now use this information to improve on current operations or as an indicator for future warnings that may arise. This means they can take corrective action even before the action is required to ensure their crops and livestock remain strong and healthy.
Agtech solutions can easily be implemented on farms and can help generate a 10%-40% increase in profitability if used correctly. Integrating agtech is a massive step forward for any farm that wants to improve on its functions. However, one of the major challenges to connectivity for remote farms is the low connectivity and limited power options available.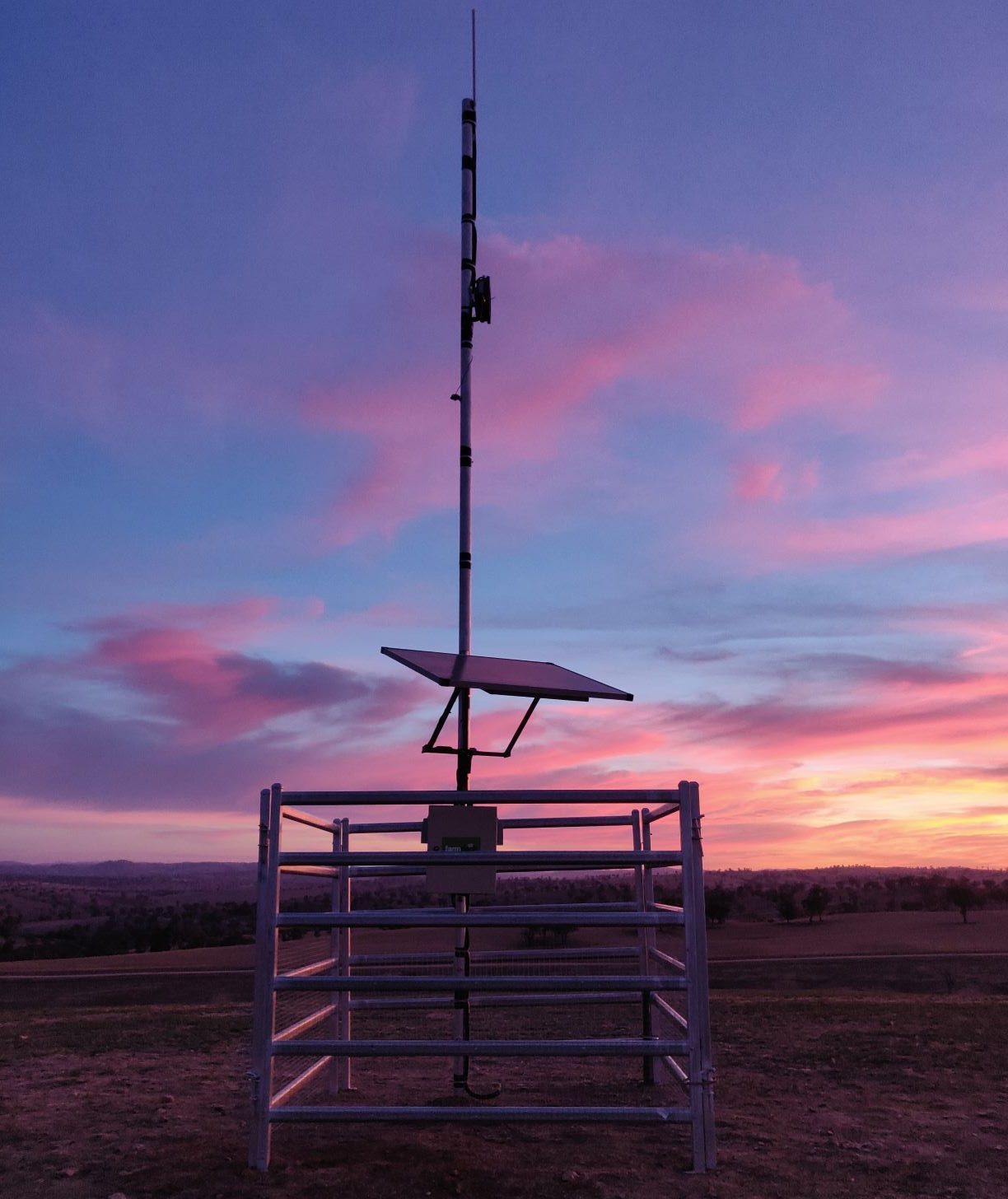 Low connectivity infrastructure solution
Unfortunately, remote farms battle to have stable connectivity, if they manage to have the infrastructure required in the first place. Farmdeck's IoT Technology Lead, Luca Palermo says that, often, connectivity is perceived as a barrier. "To solve that problem, we use LoRaWAN – a form of Low power, Wide Area Network which means one station can cover an entire farm, for connectivity to the outside world. If the farm doesn't have 4G, it can use satellite."
By choosing the right type of connectivity for your farm, farmers are able to better implement agtech solutions, helping to increase productivity and profitability at the same time. "If connectivity is implemented successfully in agriculture, the industry could tack on $500 billion in additional value to the global gross domestic product by 2030, according to our research," states global management consulting firm, McKinsey & Company.
"This would contribute towards a 7% to 9% improvement from its expected total and would alleviate much of the present pressure on farmers. It is one of just seven sectors that, fuelled by advanced connectivity, will contribute $2 trillion to $3 trillion in additional value to global GDP over the next decade," according to research by the McKinsey Center for Advanced Connectivity and the McKinsey Global Institute (MGI).
Read more about choosing the right type of connectivity for your farm here.
Agtech solutions for any farm
Once connectivity is no longer an issue, farmers can begin changing their traditional farming methods into smarter, more efficient operations by employing a range of Internet of Things (IoT) solutions. Whether your farm primarily produces fruit and vegetables or is livestock-focused, you can gain immense benefit from implementing IoT solutions – these are cleverly integrated into a farm management system (which allows you to access all data taken from these sensors from any device).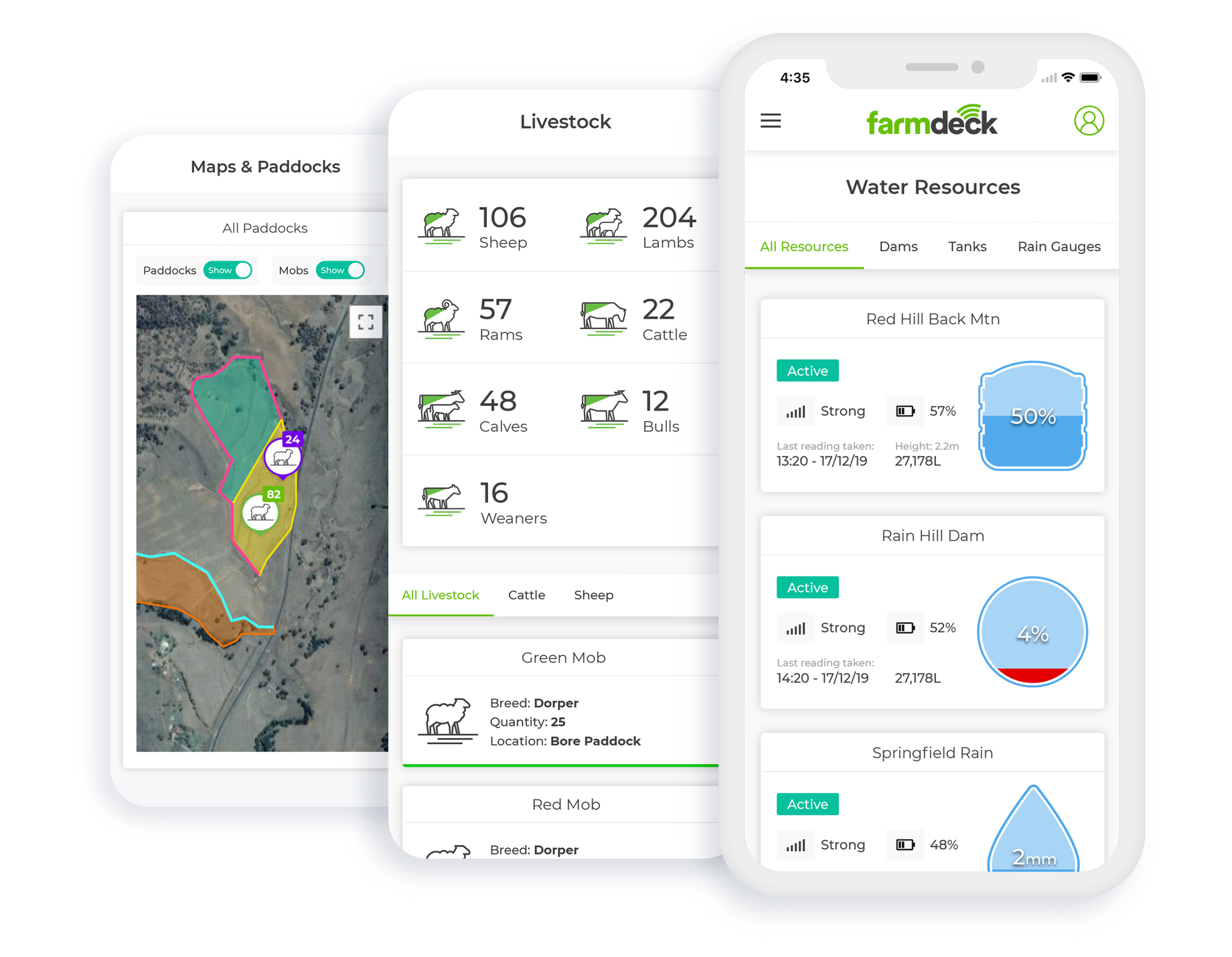 Land management and crop solutions
Understanding your land requirements can help you produce stronger, healthier crops. A variety of IoT solutions can help you gain deeper insight into grazing, cropping and treatments, including making laborious tasks easier to manage.
Below we've provided a snapshot of IoT solutions that can help simplify your farm management experience:
Satellite imaging can give you a good estimation of the pasture available, its growth rate and the grazing days remaining, making your pasture management more effective.
Monitoring water levels, including rainfall, so that you have a reliable snapshot of all the water sources on your land, so you know your water levels, individual tank capacities, and sensor status data at all times – saving you time spent doing a water run.
Monitoring and reporting on soil temperature, salinity, and moisture at various depths helps ensure that your soil has what it needs to thrive and give life to your crops seasonally.
Spray safer through automatic weather assessment. Gaining better visibility on the weather conditions affecting spray droplets and reduce health and environmental impact by following specific recommendations.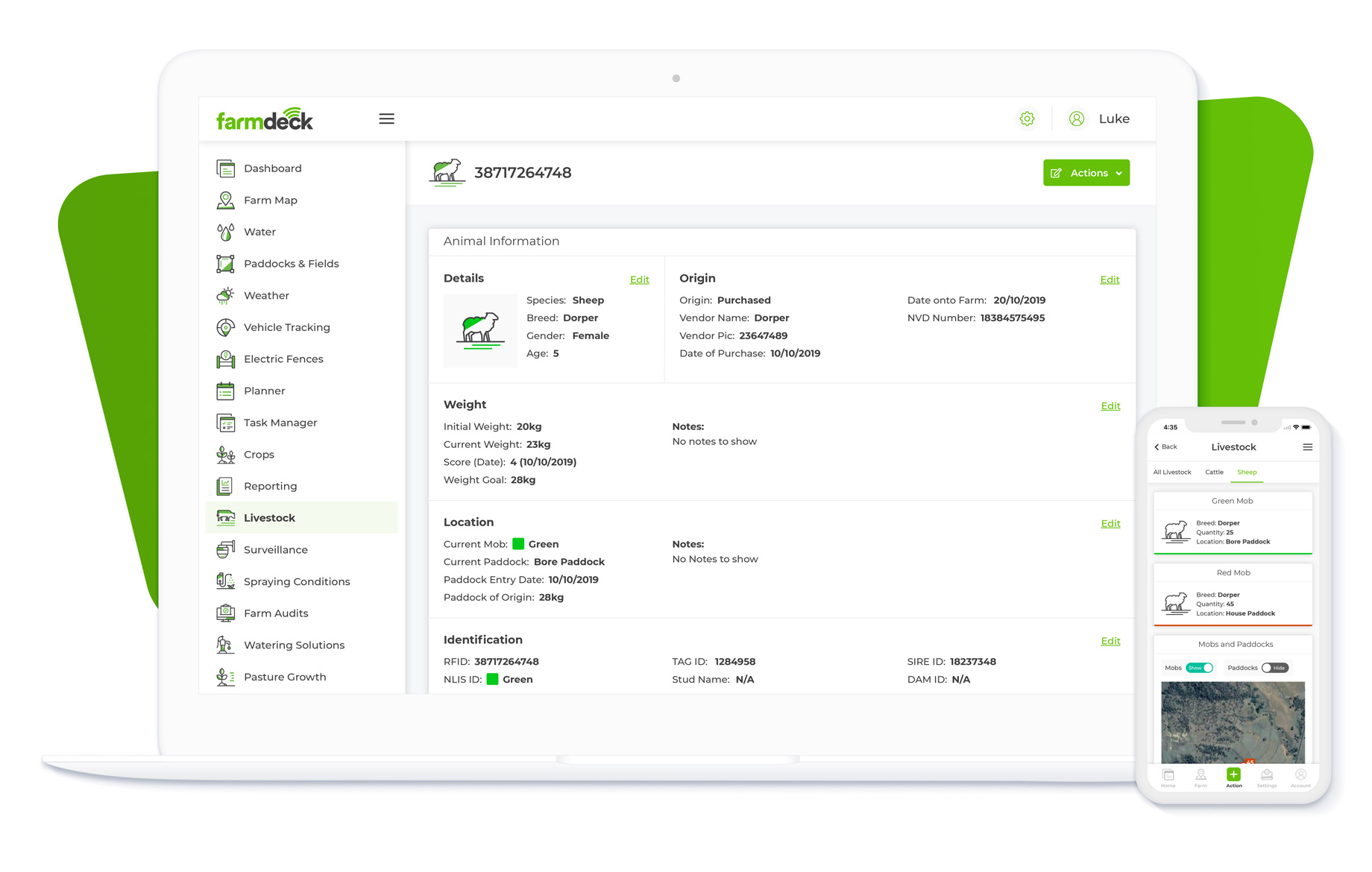 Livestock solutions
There are numerous IoT solutions to make livestock management easier. These include:
RFID sheep ear tags can automatically identify and count each animal when they walk through a gate. Something as simple as putting this tag on your livestock can help you reduce time spent manually counting your livestock and reduce human error.
IoT collars can be fitted on one or all your livestock to track your mob/s in real-time.
The monitoring of livestock and sending alert notifications if cattle/sheep have been down or non-mobile for a period of time.
These solutions for both land management and crops, and livestock are available from Farmdeck. With all the data collected by our sensors on the Farmdeck app, you will be able to better manage your farm, livestock, crop treatment and operations, from any device.
Data management
By integrating an innovative and secure farm management solution, like Farmdeck, farmers are able to see an increase in their production values, and see an increase in operational efficiencies. Farmers will be able to derive insights from the data received from our sensors, and from that, make smarter, actionable decisions.
Are you interested in learning more? Reach out to the Farmdeck team and we'll help you come up with a customisable IoT solution, perfect for your farm, no matter its size or output.