Drone use brings enhanced efficiencies, safety and cost-savings to farm operations
Tech advancements in farming is dramatically transforming the agricultural sector. No longer only following traditional farming methods, farming practices have started to integrate technology more frequently into daily activities making farming operations easier, smarter, and more efficient. Working hand-in-hand with precision farming (which predominately uses technology to optimise and increase soil quality, improving the sustainability and profitability of farms), comes the implementation and application of agricultural drones. A report released by Global Market Insights estimates that the agricultural drone market size will exceed USD$1 billion by 2024, with global shipments exceeding 200 000 units [drones] by the same year. With increased awareness of drone tech and the benefits for farmers, along with  "increasing technological advancements to enhance quality farming techniques, will further drive the industry demand over the forecast timeline [2017 to 2024]," states the GMI report.
Although almost similar to everyday drones, agricultural drones are adapted to the unique needs of the farmer – this means you have the ability to customise the drone to achieve your farming objectives. "Drones allow farmers to constantly monitor crop and livestock conditions by air to quickly find problems that would not become apparent in ground-level spot checks. For example, a farmer might find through time-lapse drone photography that part of their crop is not being properly irrigated," explains Business Insider.
These objectives, however, are limited in the capacity of what the drone can deliver, such as capturing still images and video footage. Whatever aerial use you decide to use the drone for, it can offer massive cost-savings and profitability for your farm due to the efficient nature of the tech.
Use and benefits of agriculture drones
Images: Mapping and surveying
Images provided by a drone can give you a visual assessment of your crops, boosting the efficiency in crop monitoring. For example, by knowing crops' density you can make the key decision of helping ailing crops by giving it the nutrients or water that it's missing, or whether you need to make a decision to replant an entire crop section completely.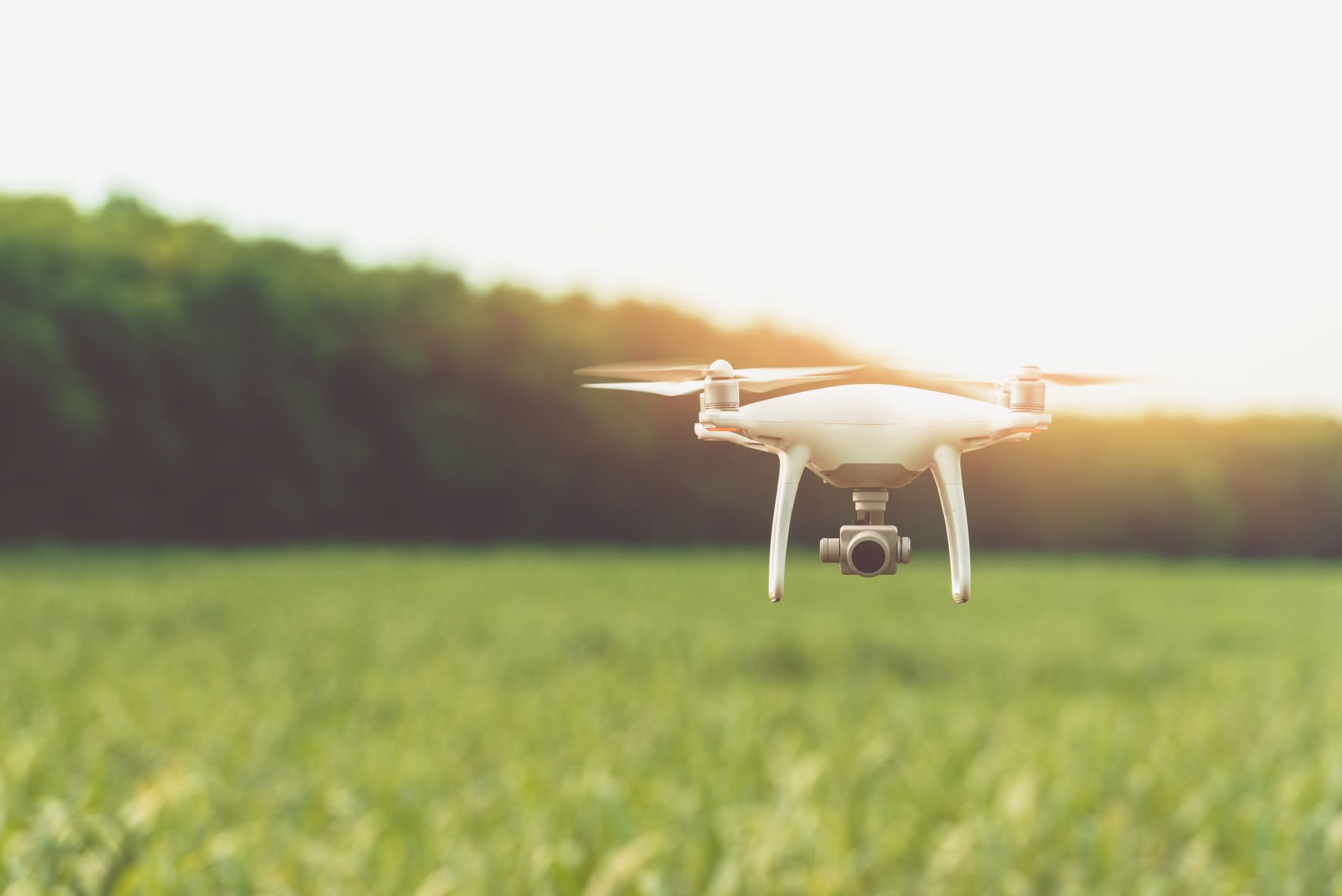 Recent updates to drone tech means that you can now map out the area of your land that you want to survey. This means that the drone will automatically take photos or video footage of your land through the use of GPS, flight planning software and sensors and relay that information back to you so that you can take decisive action and make better planning decisions when it comes to seasonal crop planting, rotation or replanting options. This also means that you don't physically have to man the drone via remote control, freeing you up to continue to focus on other aspects of your daily duties.
A PwC global report on the commercial applications of drone technology points out that you can better understand "every stage of your crops' lifecycle, from soil analysis and seed planting to choosing the right moment for harvesting" by using drone tech. Drones are particularly useful in providing you with a good understanding of your soil and any requirements it may need, such as irrigation needs and nitrogen levels based on its aerial footage, and can even provide a heat map of your crops' growth.
Additionally, you can survey other areas of your farmland and check that everything is up and running, like irrigation, or fence lines.
Crop spraying and dusting
Drones are being used even more than before in crop spraying activities. The benefits of using drones in this particular area is that they have proven to be far more accurate in spraying locations than traditional spraying tractors. Aside from eliminating possible detrimental exposure to farmhands, drones' accurateness means that you reduce chemical waste, improving cost-savings.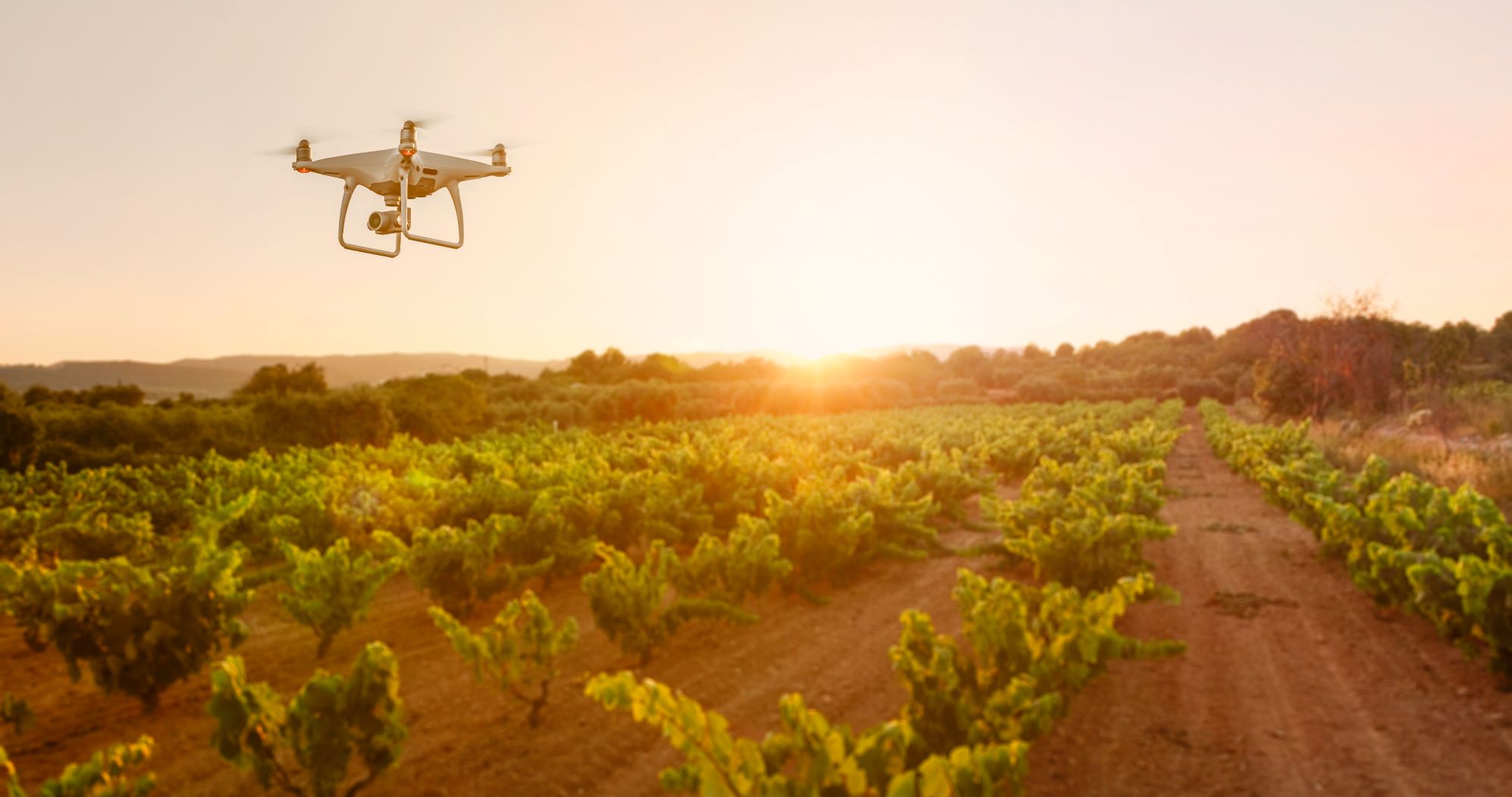 Unmanned Aerial Vehicles (UAV) regulations and developments
Even though UAVs, drones not physically operated via remote control, are relatively new tech within the agricultural space, government regulations are hampering the use of these. Patents around software and additional UAV tech are still being developed. This will affect the market size over the next few years, but once these are established this industry tech is set to soar and take the agricultural sector to new heights and efficiencies.
A key component in maximising the benefits of agriculture drones is understanding the software use and the analytics derived from it.  In order to analyse data collected from a drone, it needs to be equipped specifically with sensors and then relayed to a reliable and secure platform. Combining drone use with additional tech integration on your farms allows for more streamlined farming practices. It's vital that you research and find the best tech to suit the size of your farm and its daily production needs. Farmdeck can help equip your farm with IoT solutions to transform traditional farm activities into a tech-efficient, safe, and secure smart farm.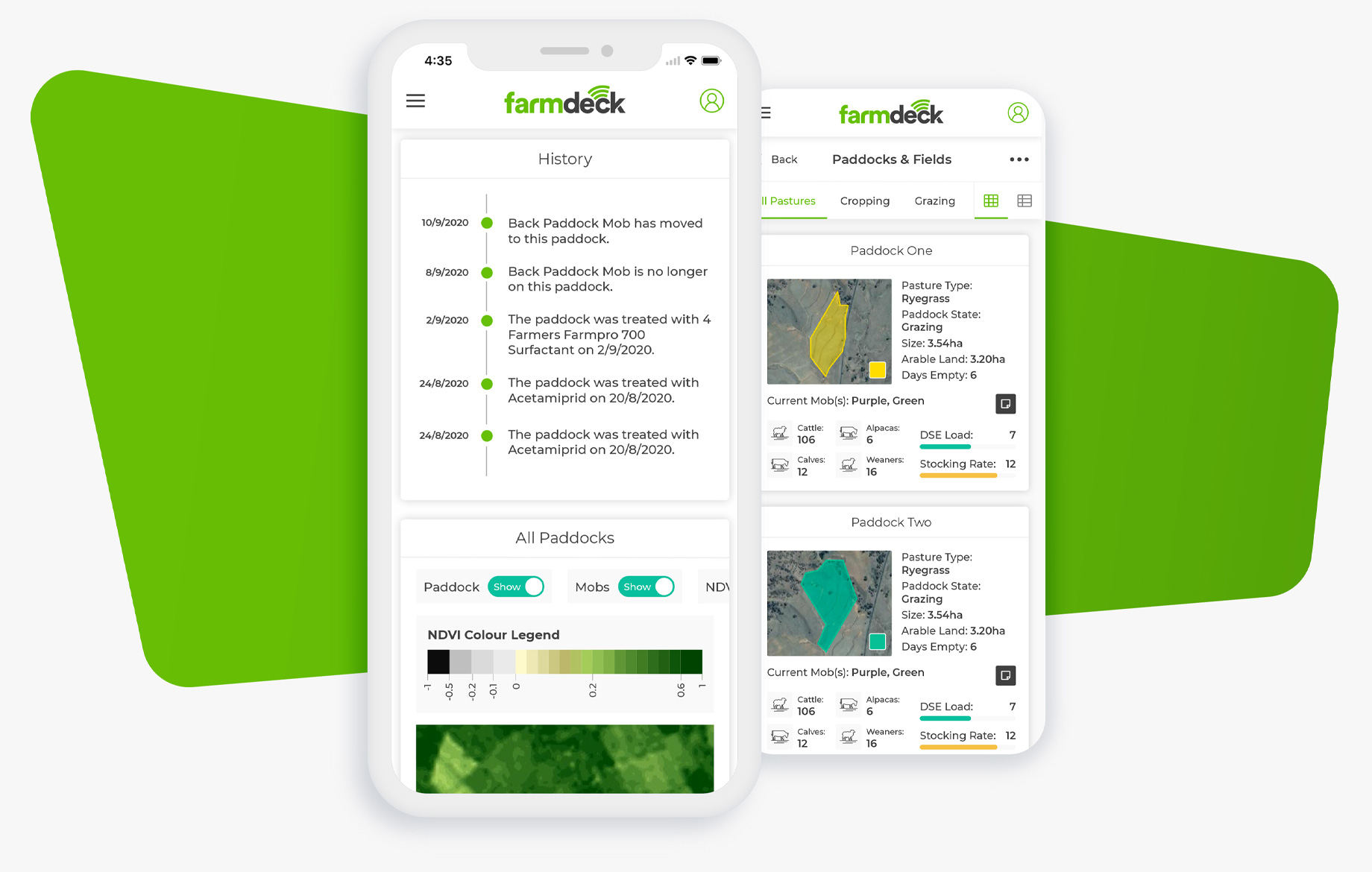 Understand your land's needs better with Farmdeck
With a range of IoT solutions available from Farmdeck, we can help you to better gauge and understand the needs of your land, crops and weather conditions. View our features page to see the various IoT features we have available and the upcoming features that we're working on to make your farm smarter. Get in touch with us to discuss how we can help you.
Making your farm healthier and more efficient:
Soil Temperature, Humidity and Moisture: Monitors and reports on soil temperature, salinity, and moisture at various depths
Pasture Management: Uses satellite imaging to estimate the pasture available, its growth rate and the grazing days remaining.
Paddock and Grazing Management: Use the Paddock and Fields feature to manage the essentials on your farm, including grazing, cropping and treatments.