Keep on top of your paddocks' productivity and growth rate
Use the Grazing Management feature to create a grazing planner and a customised chart to gain a better understanding of your paddocks' needs, monitor its productivity and avoid overgrazing.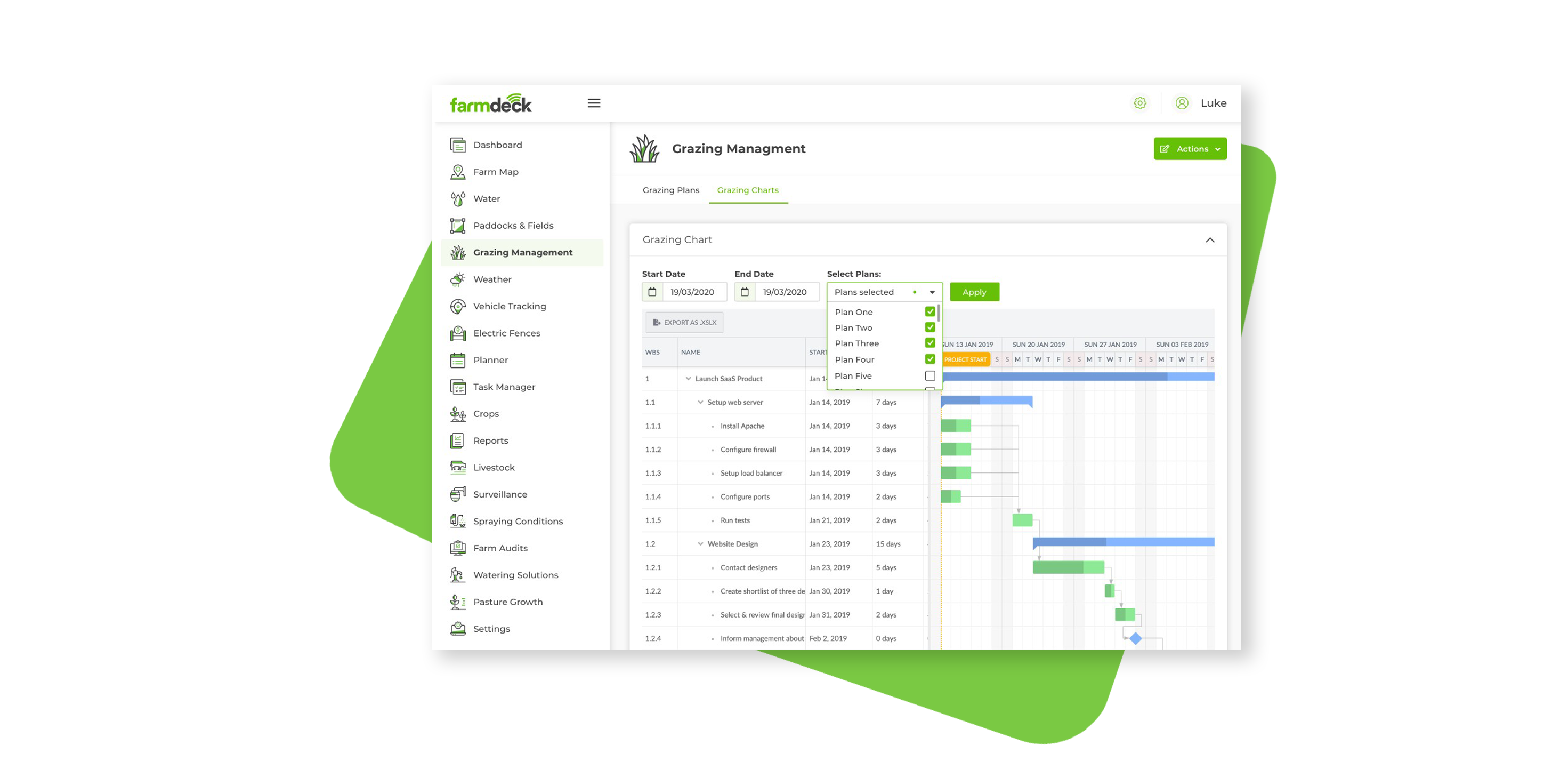 Keep track of your growth and non-growth seasons' information> 
Create a grazing plan and customised grazing charts for your paddocks' growth and non-growth seasons. The Farmdeck app uses the information you provide to generate a customised grazing chart to help you avoid overgrazing and ensure your paddocks are getting adequate rest to improve soil health.
Get better insight into:
Paddock growth and rest rate
The number of grazing days remaining
Supplemental feeds
Stocking rates
Feed on Offer (FOO)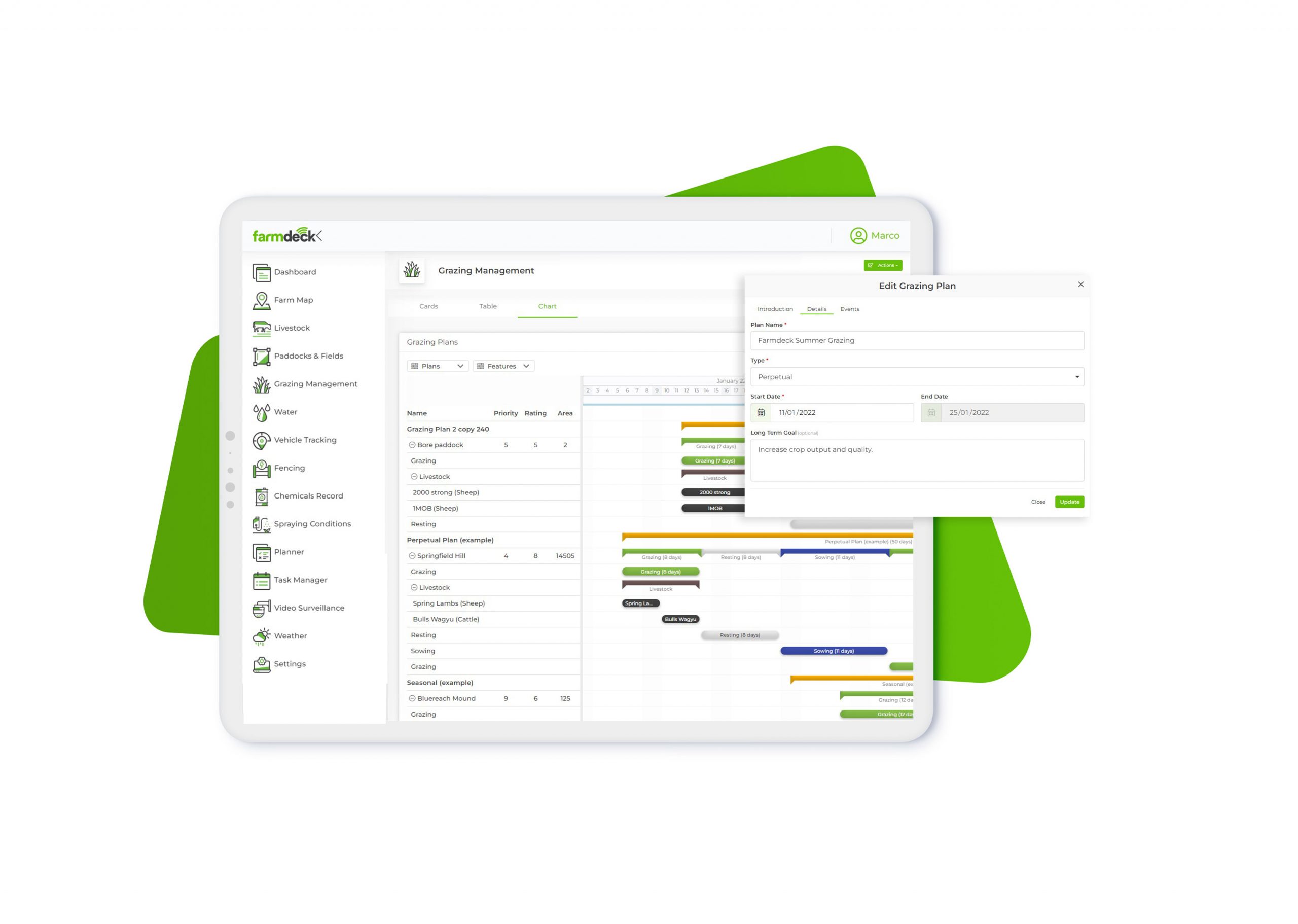 Plan ahead and gain better visibility> 
Create separate grazing plans for each season or one perpetual plan based on your own preferences. Leverage the 30+ event types (such as resting, burning, clipping, fertilising, harvesting, hoeing, reseeding, rolling and smoothing, and much more) to plan your grazing and your cropping and land maintenance activities. 
Some of the information available in the Grazing Management feature include:
Paddock names, ratings, priorities, sizes, and supply (DSE, FOO, XYZ)
Mob names, number of heads, and demand (DSE, XYZ)
Events (30+ event types, including grazing, resting, withholding, spraying, sowing, harvesting, fertilising, and more)
Plans and events start and end dates, including duration
Plans status (i.e. upcoming, active, or expired)
Select between three views: cards for a summary overview of your events, table for easier comparison, and Gantt chart for a visual outlook. Make it extra efficient by only showing the information you want to see on the Gantt chart and hiding the rest.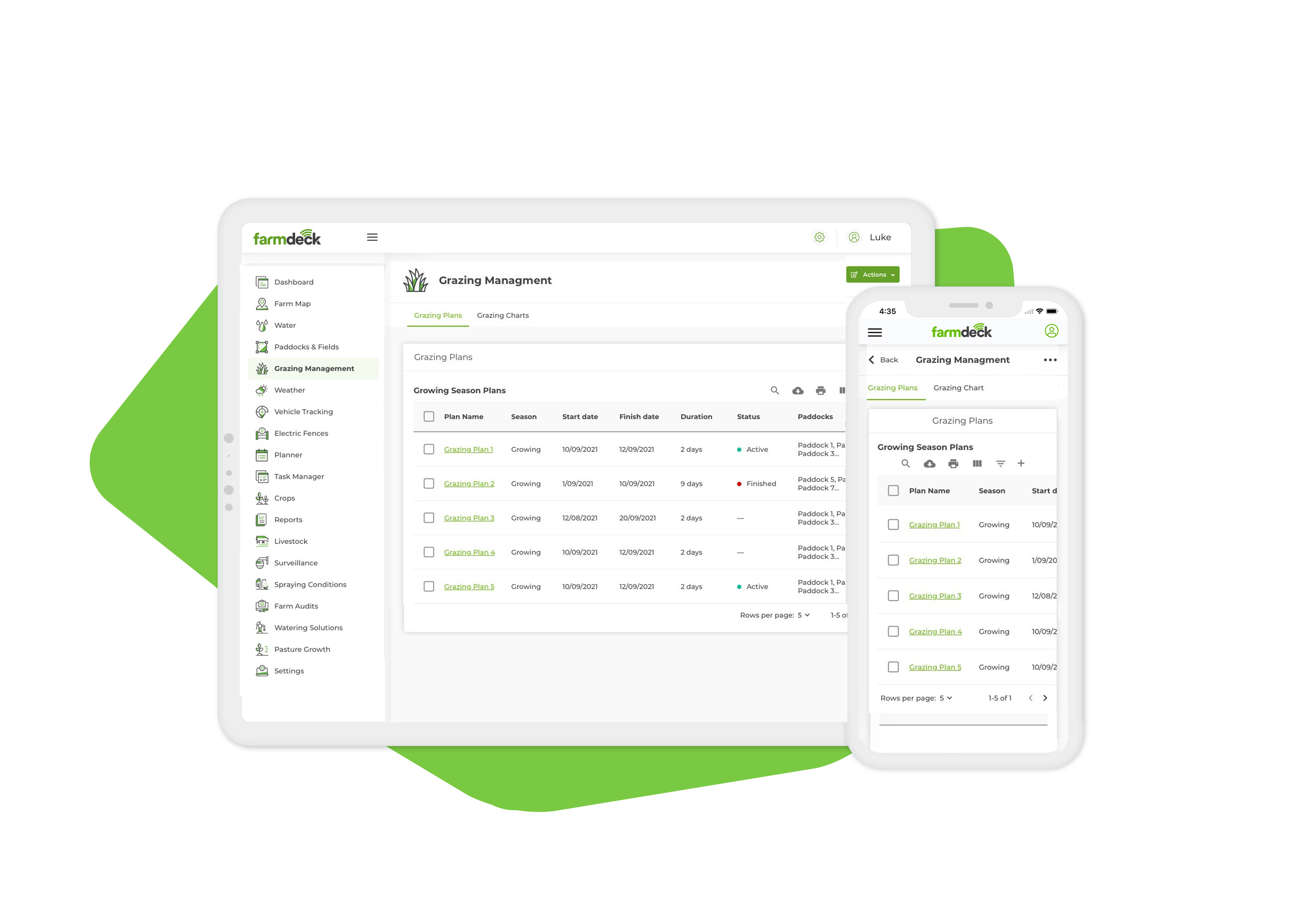 Derive insight by looking at your paddocks' history> 
By using Farmdeck's Grazing Management feature, you gain better visibility over the essentials for day-to-day decision making on the farm, including stocking rate.
One of the biggest advantages of using the Farmdeck Grazing Management feature is the ability to look back at your paddock's history. A dated record is logged for every update you make to your paddocks using the Farmdeck app, including number of grazing days remaining, number of days a paddock has been resting, feed on offer, and pasture growth rate to help make choices about when to move livestock between paddocks.