From farm to table: Optimising with IoT
While Farmdeck brings numerous Internet of Things (IoT) installations onto your farm to create a seamless farm management solution, the team behind Farmdeck, Outcomex, also offers IoT solutions targeted at other industries. These industry-specific solutions provide extensive features that are aimed at addressing key areas of each sector, allowing more streamlined and efficient business operations.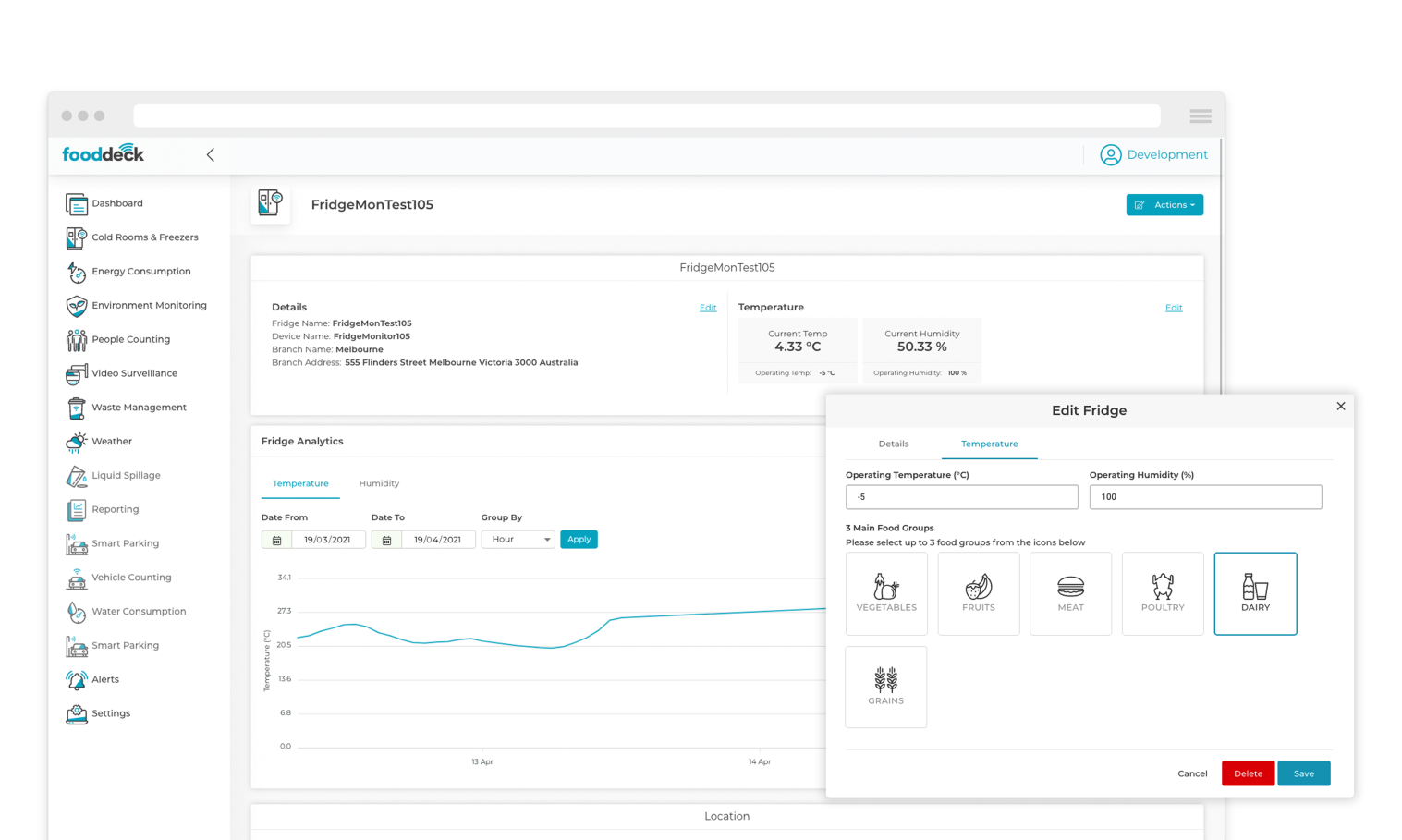 FoodDeck
Developed specifically for the hospitality and food services industry, FoodDeck aims to assist businesses with industry compliance standards and with meeting food safety regulations, including day-to-day management. With sensors and devices, network and connectivity, and its analytics platform, FoodDeck is a complete IoT solution.
FoodDeck provides a range of IoT features, such as:
Monitoring of temperatures and humidity in cold rooms, freezers, refrigerators, and refrigerated transport that impact the viability of food stored within these.
Monitoring energy and water consumption.
Monitoring the level of litter in bins.
Monitoring individual car park availability and usage.
Counting of vehicles and the number of patrons within the establishment.
Enhanced security measures through surveillance video of sensitive areas and alerting when people come into these specific areas.
Environmental monitoring, such as air quality, noise levels, light quality, and Occupational and Health safety (OH&S) parameters.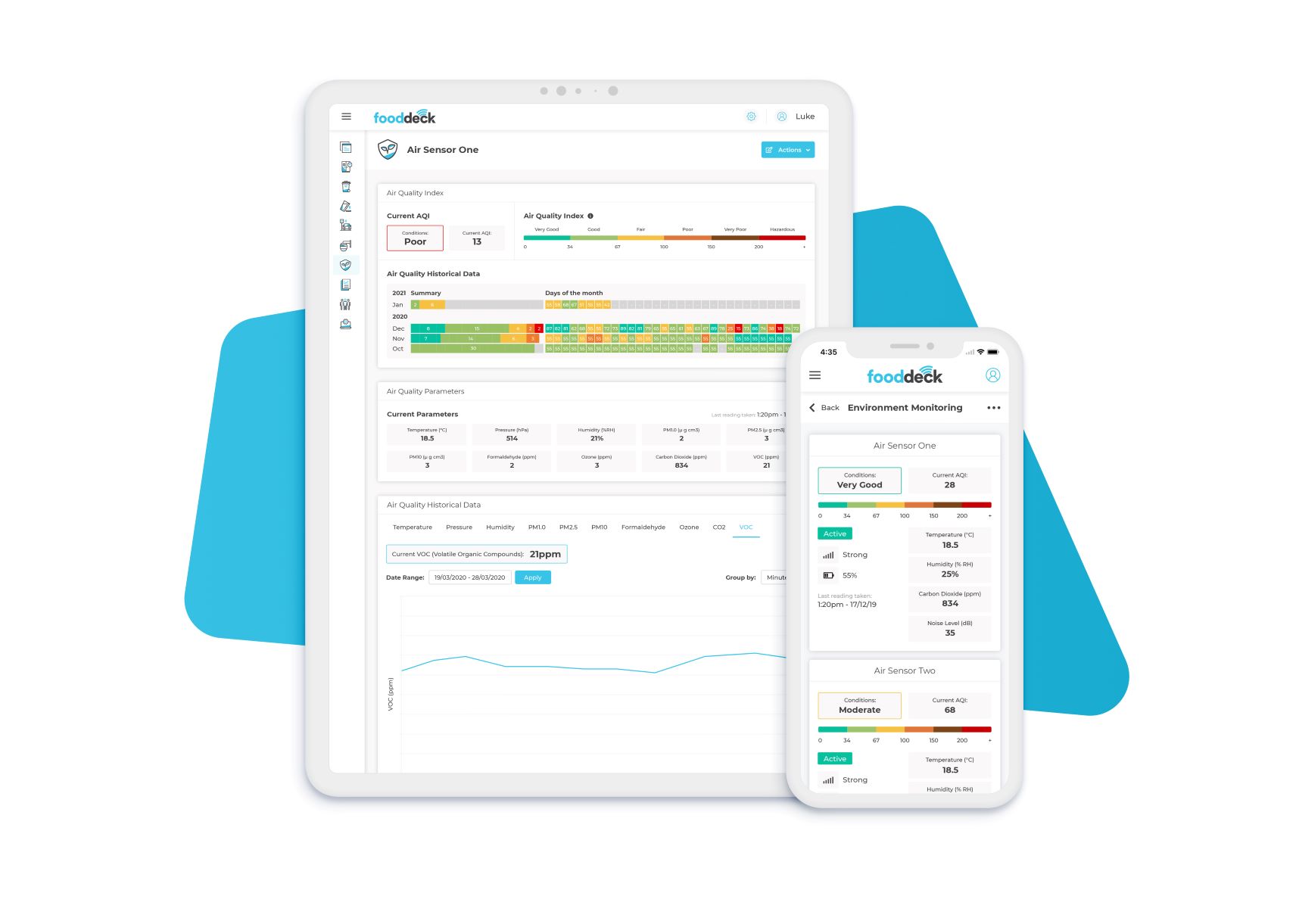 How you can use this data
With the data collected from these sensors, customers working in food services and food transport are able to:
Improve food safety through the utilisation of real-time temperature tracking sensors and alerting features, ensuring effective cold chain management.
Facilitate audits by having access to empirical data.
Optimise specific areas of their business and use of employees' time, such as increase staff count during high patron hours.
Improve the environmental conditions of their workspace, such as the air or light quality.
Access historical information to make smarter decisions that will improve their businesses operations, such as seeing which areas are the busiest and providing a better customer experience.
Each IoT sensor has an alert feature notifying customers in real-time if levels are out of the desired range or if something is out of the ordinary. This helps take corrective action and put measures in place to ensure optimal freshness of food, and workplace safety and productivity.
An award-winning solution
In 2020, we received the 2020 ARN Innovation Award for Emerging Technologies: IoT. This award recognises Outcomex's deployment of our all-in-one IoT solution, FoodDeck, specifically designed to deliver business outcomes for our customer, a fast-food restaurant chain. With this solution, we helped the chain to prove compliance during food safety audits, and while saving them time and money by automating a manual process.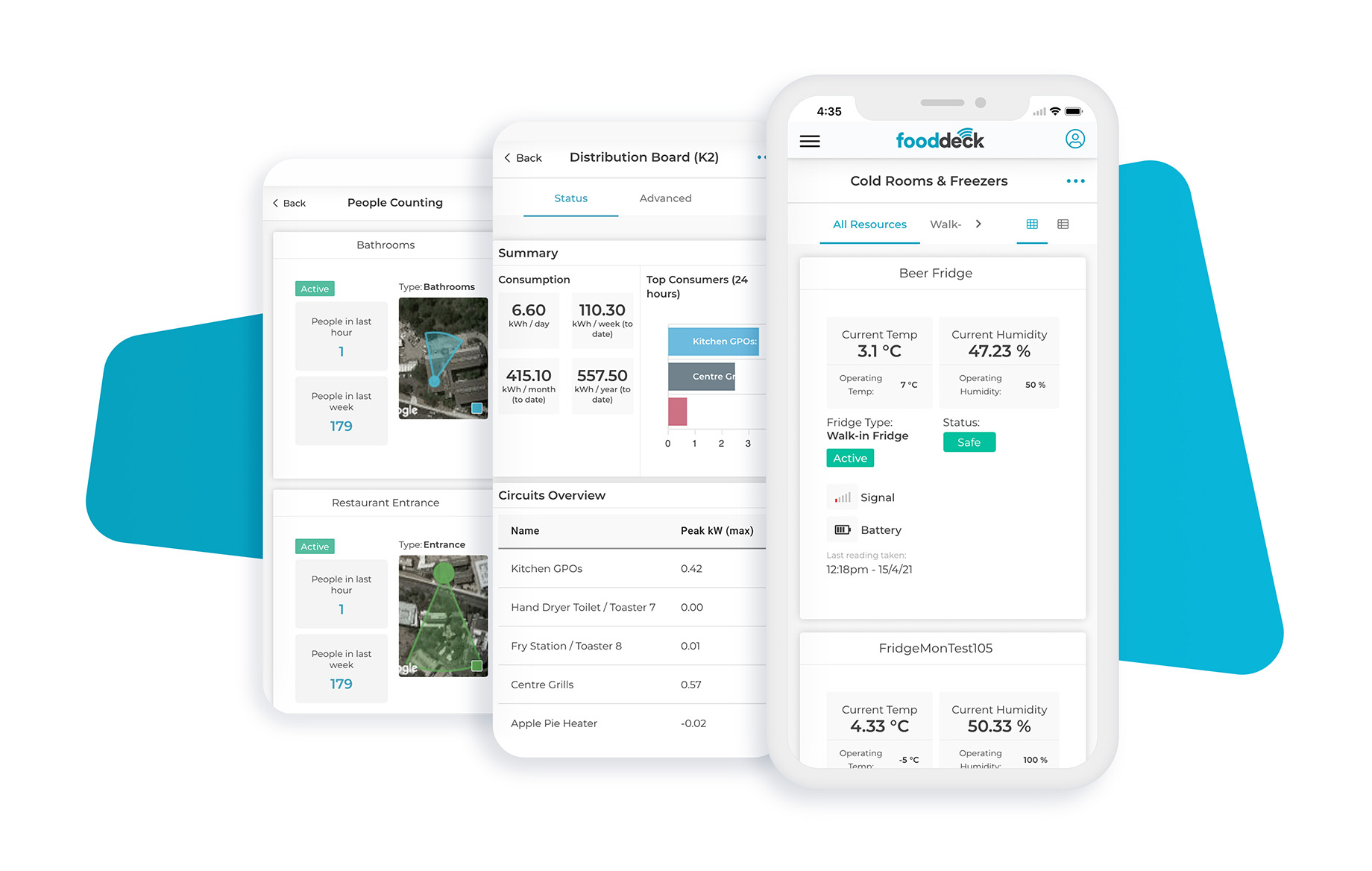 Tailored sensors to your requirements
Our team develops and manufactures our own range of sensors. Building our own sensors allows us to cater for unique requirements and to guarantee our technology meets high-quality standards. Our products are durable, temperature and water resistant, as well as food-safe. Having our own sensors also means that in the rare occasion a sensor issue arises, the team can directly address the matter.
Are you interested in learning more about our other IoT offerings? Get in touch with us and let's discuss a solution to meet your needs.